Past year, my passion for nail polishes has strengthened even more.
I lovelovelove the 2011 Winter Holidays collections from OPI, China Glaze and Essie.
Never being a fan of glitter nail polishes, I found myself not surviving without buying one (or couple!).

This post is dedicated to my new current favorite - "Love Marilyn" from
Combination of fine red glitter and rounded silver glitter particles, absolutely gorgeous!
I used one coat of red polish as a base and then
applied two layers of Love Marilyn on top.
(apologising for the awful quality, but truly hope you've got an idea)
I know some ladies are trying to avoid glitters because its a headache to remove them.
Check out this helpful
tutorial
from
MissChevious,
one of my favorite YouTube Makeup Gurus.
She provides an EASY (yes, you read it right)
method to remove glitter polish from your nails.
So, give Glitters a try!
Where to buy:
1. On Ebay from
enchantedbeautyspot
Usually buy from her, cause she has the best P+S prices (US $6.25 + $1.50 shipping, ~ 6 eur)
2. Specialised online stores:
transdesign.com
,
head2toebeauty.com
Price per bottle is around $3, however international shipping rates may not be that attractive
3. Your local stores
Tallinnlastele: antud kollektsiooni küünelakid on hetkel müügil Kaubamaja Ilumaailmas hinnaga ~ 7 eur/tk
Для таллинцев: лаки данной коллекции сейчас в продаже в Каубамая по цене ~ 7 евро за штуку
Stay tuned for the Episode #2!
AND
(have never heard of it?)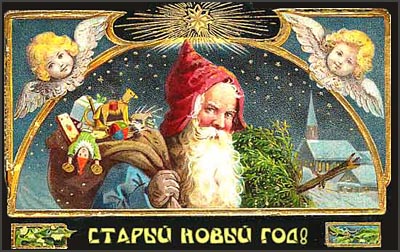 According to
Wiki
,
Old New Year
or the
Orthodox New Year
is an informal traditional holiday, celebrated on as the start of the New Year according to the Julian calendar. Nowadays, on the Gregorian calendar, the Orthodox New Year falls on 14th day which is today.
Actually, the word "informal" is pretty descriptive. On the 13th January's Eve we usually have a family dinner - enjoying our meal and a glass of wine. Old New Year is about "warm and cosy feeling of home".
Especially with the winter blizzard raging outside. Ouch!
As we say "Happy Old New Year" or "Со Старым Новым Годом!"
With love,
A.